New Release – Out Now
Cosmic Cabaret
Join us aboard Blue Star Line's crown jewel, the LS Quantum. Thirteen USA Today, Amazon best-selling, award-winning speculative fiction romance authors deliver their twists on tales set in the dance halls and clubs of this luxury starship as it travels through space and time.
Follow princes, sultans, rock stars, scientists, cirque artists, and dancers as they solve murders, track thieves, fight bullies, plan heists and fall in love.
Catch a Falling Star by CJ Cade
Chaz Jaguari, inter-galactic singing star, hides out until a sexy Tygress wanders into his lair and brings the jaded star roaring back to life.
Starlight by Kerry Adrienne
Astronomer Dr. Andrew Mann becomes enthralled with a performing particle shifter. Stella wants to trust the scientist, but she has a secret, and she's scared.
Midnight at Andromeda's by Tessa McFionn
Reluctant groom, Prince Marqaz, moonlights as a common bartender…until the surprising arrival of his like-minded affianced, Karyna.
Stars Shining Bright Above by Jayne Fury
Astra Faraday ran from a life of piracy. Dr. Zane Jones signed on to the ship to escape a former life—one that was killing him. When her mentor is murdered their pasts collide as they solve the crime and fall in love.
Star-Studded Love by Rosalie Redd
Caleb hides his disability behind his job as an exotic dancer, keeping women at arm's length. Then he meets Adara. How much will they risk to find their dreams together?
Forbidden Alliance by Athena Grayson
It's going to take brain surgery and rocket science to reunite a pair of long-lost, star-crossed lovers.
Razer's Edge by Selene Grace Silver
Erotic dancer Ayanna headlines at the cabaret until a psychic thief named Razer uses her identity to pull off the plunder of a lifetime, jeopardizing everything.
A Dance of Fallen Stars by Kat Vancil
Notorious playboy Kealan Corkoran's been branded an illegal stowaway light-years from home. His one chance to get out of this mess: working under the impassioned daemon choreographer who got him into it.
Vordol's Vow by Dena Garson
Bodyguard Vordol Silveira vows to be the best, keeping his heart disengaged. Pitannah Lorento dreams of winning the intergalactic burlesque competition. When she's threatened, Vordol's vow is put to the test.
Hide and Peek by Blaire Edens
Religious zealots storm the burlesque club where Suzy headlines, forcing her run, leaving behind a precious possession. Davell hooks up with Suzy to catch the perps, her actions set off a chain of dangerous events.
Educated by the Master by Cailin Briste
Take one talkative novice to kink. Combine with a master who prefers the silence of meditation. Bake on high heat at the Cosmic Cabaret. Luscious.
Comets and Caviar by Jenna Lincoln
Smooth undercover agent Malachi Cartier's lavish tastes include fine spirits and ladies. But he'll need more than charm to finish his mission and win security professional Keya's heart.
Star Searchers by Diana Rivis
Agent Sabrina Hawthorne of the Inter-Galactic Alliance thinks she'll track a traitor with her brother. Instead, she's partnered to his overbearing, stick-in-the-mud friend, Dayor Keitos.
---
Don't miss out on Selene's first Star Daemon Universe release: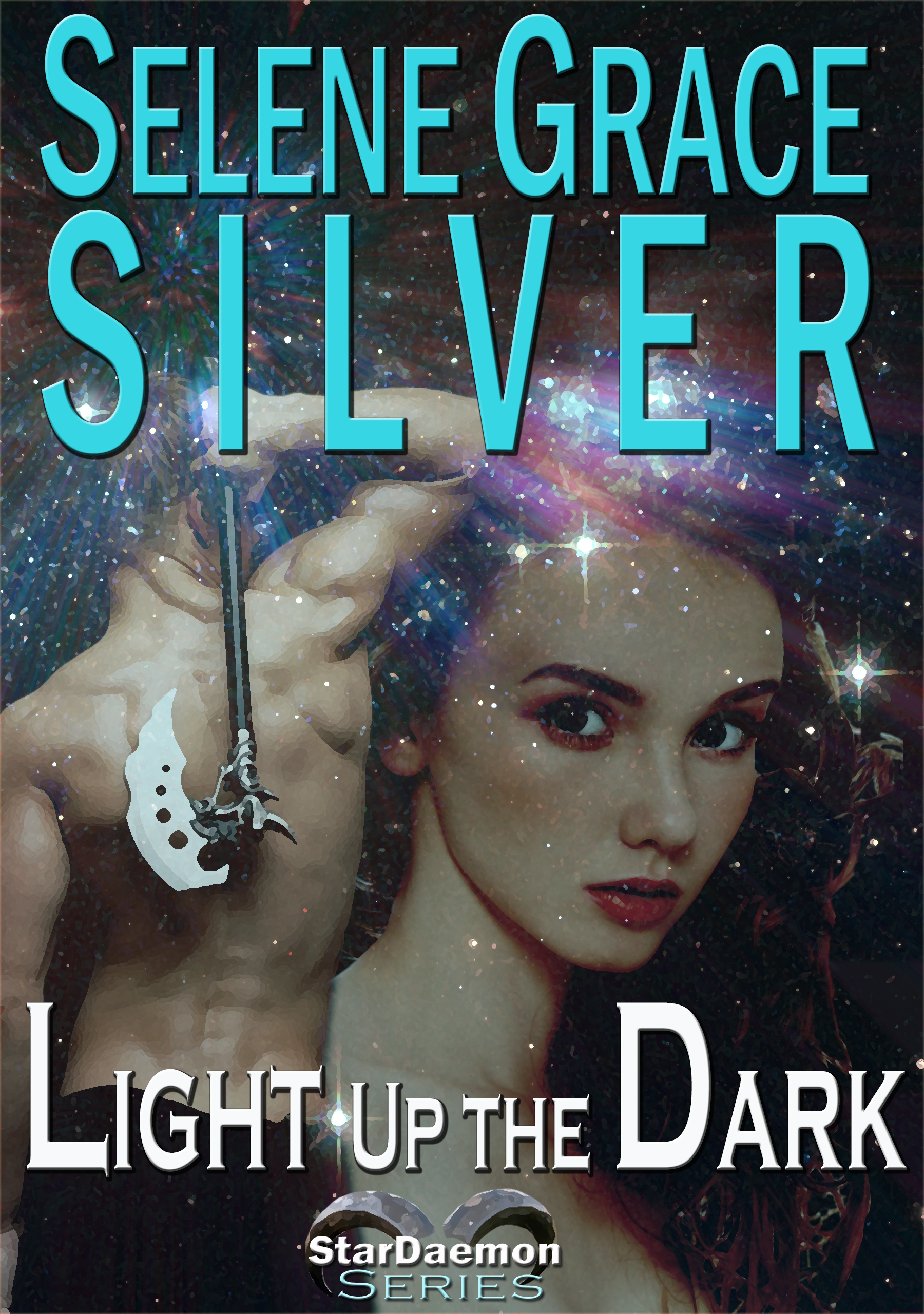 LIGHT UP THE DARK: A StarDaemon Novella by SELENE GRACE SILVER
Twenty-something girls just want to have fun. How can Nadiah explore her sensual side when her overprotective father is a powerful telepath who reads and controls the mind of any potential mate? An impulsive joy ride to Jagron's sex palaces is her first opportunity to take a lover, but instead, she wakes up to find herself trapped in a space cell with a huge, mute alien. By the time they escape their kidnappers, she'll have more than a solo trip dirtside to explain to Daddy.

Previously published in the SFR Anthology, Baby, It's Cold in Space.
SELENE GRACE SILVER writes paranormal, science fiction and contemporary romances that prove opposites attract and love often strikes like a flash of lightning. Her website is selenegracesilver.com (which you know since you're reading it right now!).