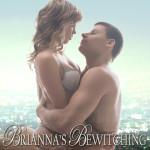 Interview and Reviews on the first book in the Witches and Warlocks of Los Angeles series:
Released March 10th: Brianna's Bewitching is the prequel/first book in the Witches and Warlocks of Los Angeles series.
A radical feminist and a traditional cop meet during a women's rights rally in downtown Los Angeles in 1977.
Brianna is a feminist finishing up her final university courses. She's a little bit wild, but isn't that what being young and free is all about? It's a new age for women and she intends to reap the benefits that new status provides her. She's focused on developing a rewarding career and finding an adventurous lover. She's also a witch-in-training. Her inherited powers are growing faster than her skill though. She's not sure if one of her reality shifting spells is the reason she's become the love interest of one LAPD officer.
Jack Ross never does anything without a well-thought out plan. On track to make detective within the year, he's lined up a perfect woman to be his wife and raise their children. She's thoughtful, gracious, and lovely to look at, and best of all, she's not one of those radical bra burning feminists. She desires a traditional life as a wife and mother. If he doesn't exactly love her yet, he's sure that he will once they marry. He's never been in love and it seems to him that it's as easy to love one attractive woman as another. Then one unruly, mouthy blonde lands in his arms, disrupting all his carefully-laid plans.
AVAILABLE EXCLUSIVELY ON AMAZON.
Sign up for Selene's Newsletter for notification when the book is available.